Indian food is one of my absolute favourite types of cuisine because it is so full of flavour, incorporates spice, and always filling. This week, I decided to make this Indian-food inspired dish – I made a large batch which I feasted on for days. While this curry was delicious on Day One, the flavours got deeper as the tofu and veggies soaked up the ginger and garlic goodness, resulting in an even MORE flavourful dish as time went on!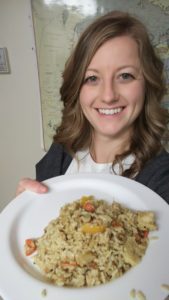 (#betterwithblix curry mixed with brown rice.)
Curry is the perfect trifecta of things I am always looking for in an ideal meal:
(1) Foods that are hydrating
(2) Includes heaps of veggies
(3) Is a one-pot meal (fewer dishes!)
Another thing I love about curries is there are a few necessary ingredients you need to begin creating your meal but the veggies can be easily substituted. Check out what I included in my curry creation but don't be afraid to vary and alter the recipe to your own liking.
INGREDIENTS:
4 teaspoons coconut oil
1 tablespoon cumin seeds
1 medium or large onion, finely chopped
5 large garlic cloves, minced
4 teaspoons of dried ginger or 4 teaspoons fresh grated ginger
3 teaspoons ground turmeric
3 teaspoons ground cumin
2 teaspoons ground coriander
½ teaspoon red pepper flakes, or to taste
½ to 1 tablespoon lemon juice
2 cans coconut milk
1 large white potato or 1 package of extra firm tofu
½ head of cauliflower (approx. 2-3 cups), chopped into bite-sized pieces
2 medium sized carrots, chopped into medium chunks
2 stalks of celery, chopped into medium chunks
1 red, orange or yellow bell pepper, chopped into large chunks
Salt and pepper to taste
Cooked rice of your choice (Optional)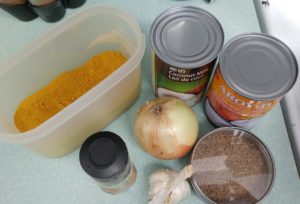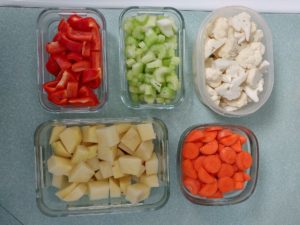 Melt coconut oil in pan, then add the cumin seeds. Lightly toast the cumin seeds until they change colour, for approx. 1 minute.
On medium heat, stir in chopped onion and minced garlic. Cook until the onions are translucent, approx. 3-5 minutes.
Stir in ginger, turmeric, cumin, coriander and red pepper flakes, and saute for a couple minutes. Add desired amount of salt and fresh ground black pepper.

Add the coconut milk. Once the coconut milk has heated up, add the tofu or potato , cauliflower and carrots. Let simmer for 10-15 minutes until the veggies become slightly tender. (Check tenderness by spearing with a fork.)

(The seasonings and coconut milk before adding veggies.)
Add in your softer vegetables – celery and bell pepper, and simmer for another 10 minutes.

Add lemon juice. Stir.
Taste and adjust salt, pepper and other seasonings to taste.
Remove from heat. Serve warm alone or on a bed of rice.OPTIONAL: Garnish with fresh cilantro and fresh lime juice.
TIPS:
If you add too much lemon juice or the curry tastes too acidic, add 1-2 tsp of agave or honey to rebalance the flavour.
If you substitute other vegetables, make sure your toughest/hardiest veggies are added first so they can cook longer. Softer veggies (such as zucchini or mushrooms) take less time to cook so they can be added later.
Freeze portions of rice and curry together for a quick one-pot meal at a future date. Remove frozen rice and curry mixture from the container and reheat on low on the stovetop.

ENJOY! 🙂
Becky