Sometimes finding a meal that suits a variety of taste buds and dietary restrictions is not easy – Buddah Bowls are a great option, and easy to make at home. With a mix of cooked and fresh foods, this meal is balance of nutrition-packed ingredients and soul-warming textures. Here's what I put in my Buddah Bowl, but feel free to add in your favourite veggies or top off with your all-time favourite dressing.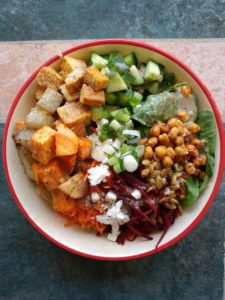 How to assemble the Better With Blixrud Buddah Bowl!
Start with a grain:
Couscous; or
Quinoa (gluten free option)
Add greens:
Spinach; or
Mixed baby greens
Next comes Veg!
Roasted potatoes
Roasted sweet potatoes
Shredded beets
Shredded carrots
Chopped cucumbers
Chopped green onions
Protein:
Baked chicken breast, cubed; or
Tempeh, pan fried (for vegan option)
Additional Toppings:
Goat cheese
Roasted pumpkin seeds
Roasted chickpeas
It's all in the dressing…
Lemon-Garlic Olive Oil dressing; or
Greek; or
Balsamic vinegarette.
Meal Prep Tip: chop double thank you will eat and have amazing lunches for the next few days.
ENJOY!