Looking for a deeply satisfying, flavour-filled and nutrition-packed dessert for the whole family? Try to Fast Fruit Fondu!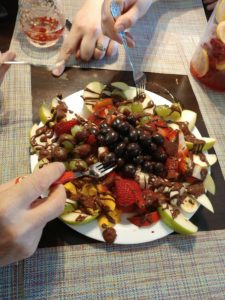 Four Simple Steps:
1. Chop a few different fruits, such as:
Mango
Bananas
Grapes
Strawberry
Green apple
Raspberries
Arrange fruit on a plate.
2. Melt 1/2 cup of chocolate chips and 3 tbsp coconut oil in a saucepan on low temperature, until melted.
3. Drizzle melted chocolate mixture on top fruit.
4. Top with dark chocolate covered almonds if desired.